Homes in Michigan frequently feature basements, so many homeowners expect them and aren't sure how to function without one. A basement is a great feature for storage, flexibility, and safety during dangerous weather. However, basements aren't the only option to achieve square footage and shelter from the storm, and they are not the only option when building a custom ICF home. Understanding the circumstances under which some of our clients have opted out of building a basement across Greater Grand Rapids and throughout the Lakeshore will help you evaluate whether you could be better off without a basement for your new home.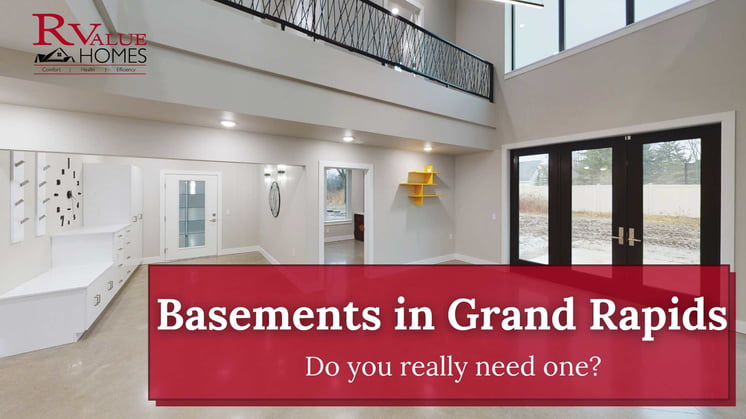 R Value Homes constructs award-winning insulated concrete form (ICF) homes in West Michigan. Our expertise in this unique, efficient, and durable construction method gives us insight into the ways that using ICF might change your design plan for your new home in Grand Rapids, MI.
Why ICF Homes Are Safe Without Basements
Many of the advantages of ICF make a basement unnecessary. Though you can always build a basement if you want it, it's important to understand how using ICF might change the pros and cons of including a basement. Basements are safe places to take refuge from storms because they give you shelter if the storm knocks debris through your home or demolishes your structure. This is far less likely in an ICF home than in its stick-built counterpart.
ICF homes feature concrete walls. They are the strongest homes routinely built in our area. As such, high wind events are no match for ICF walls. While code-built homes are designed to withstand only 85 miles per hour wind resistance, ICF walls can be readily engineered to withstand double that, and even more severe circumstances, though we hope you never face them. Though wind-blown debris cannot pass through ICF walls, windows remain hazards and should be avoided during severe weather.
For this reason, clients will sometimes surround a walk-in closet with ICF walls, or use impact resistant windows, such as those approved for Miami-Dade Counties.
Want to see real life examples of the strength of ICF construction? Head to our website.
Reasons to Omit a Basement in Your ICF Home
Many of our clients opt to build without a basement. The benefits of ICF homes often make basements redundant. Here are the top reasons for their choice to remain above grade in their custom ICF homes.
High Water Table
If your lot has a high water table, digging for a full basement might be out of the question. Though you can mitigate a high water table with excellent waterproofing, drainage, and sump pumps, fighting nature isn't always the best use of your time or investment. Building a basement on a lot with a high water table sets you up for a future catastrophe when power goes out, your pump fails, or the seasonal flooding raises the water table much higher than expected. Why sign up for an insurance claim? In such cases, better not to have a basement.
Too Much Unused Space
One of the primary tenents of energy-efficient construction is minimizing waste. Many folks don't use their basement living space nearly as often as expected. It's important to ask yourself, "what size house do I really need?" Though basements don't require quite as much energy to heat or cool, they must be conditioned to keep air quality up, and moisture problems at bay. Reducing your square footage is a wise way to increase your home's efficiency and conserve resources.
Aesthetics and Expense of Constructing a Hill
Folks with a flat lot must create the opportunity for a walkout basement. The amount of earthwork required to raise your home for a walkout creates a funny-looking hill and doesn't come cheaply. Clients who opt out of basements and build on a slab (with our expert advice and execution) instead eliminate this expense, and get the bonus of windows throughout the home--not just on the walkout side.
Zero-Step Homes for Aging in Place
Many folks are interested in aging-in-place in their forever home. Steps are one of the first challenges for homeowners with declining mobility or potential wheelchair use in the future. The disadvantages of climbing stairs as we age include fall risk and limited ability to transport larger items safely between stories. Homes without basements simplify zero-step building. They put every important room on the first floor. There isn't a steep staircase in sight. Adding a basement to a home otherwise designed for accessibility can easily defeat the purpose of eliminating steps and transitions.
Wondering about the upfront investment for an ICF home? We break it down here.
Avoid Window Wells and Stick to Natural Light
Basements can be dark affairs without intervention. That's why basement home theaters are so popular. Window wells can make room for natural light via the windows, but these pits around your home can present their own hazard and maintenance challenge. Furthermore, window wells might bring in natural light, but the view is terrible! Avoid the safety and maintenance hazards, and gain beautiful views by building your living space above grade.
Two Stories is Plenty. Three is Too Many
If you already have two-story home plans, you might have all of the space you need. It bears repeating: save energy by eliminating infrequently used spaces. Further, unused spaces often create quagmires for clutter. If you're not visiting your basement often, it can easily become a dumping ground for items when you aren't sure what to do with them or when you'll need them.
Your Grand Rapids Area Custom ICF Home Becomes Real When We Connect
Building an ICF home is a dream come true and a labor of love. R Value gets the details right on your behalf. We cannot wait to meet you and get to work on one of the most exciting and worthwhile investments you'll ever undertake–your custom dream home. Let's make it real together. Connect with us here.