What do you get when you cross a Yeti mug with a Tesla car? An ICF home! Many people don't know enough about this attractive option for creating an energy-efficient custom home. For a modest price increase, ICF returns industry-changing performance. An ICF home can be an excellent option for your new home on the Lake Michigan shoreline. We'd be delighted to show you why.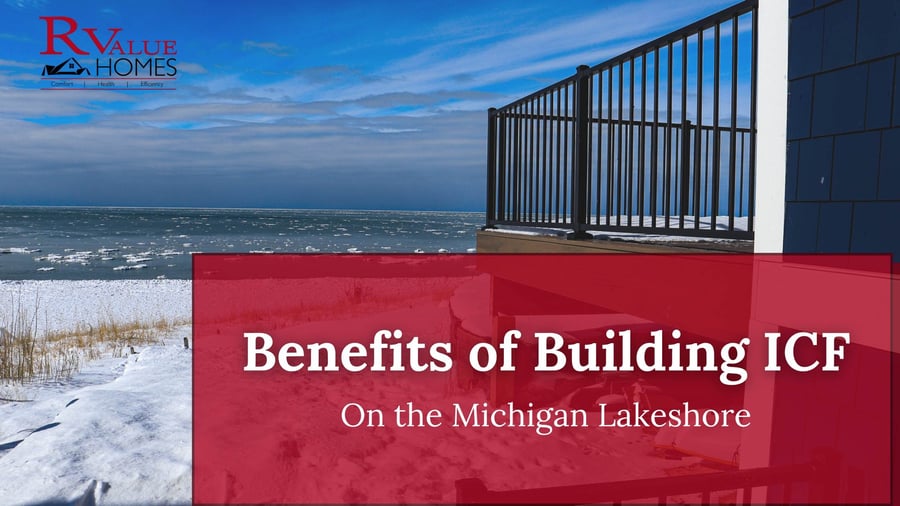 What is a High-Performance House?
A high-performance house is an air-tight, well-insulated home with excellent and efficient ventilation. High-performance homes retain the heat inside the home to maintain a consistent temperature. This means a little energy goes a long way, and you aren't constantly running your heat or air conditioning, keeping your energy consumption as low as possible.
R Value Homes Builds Attractive and Functional Energy-Efficient Homes on West Michigan's Lakeshore
R-Value Homes specializes in Insulated Concrete Form (ICF) new residential construction. This unique construction method produces air-tight, energy-efficient homes that stand the test of time. There are more reasons than you expect to build an ICF home on Lake Michigan's shoreline, and we're well-equipped to tell you about them.
Benefits of ICF Homes
We understand that ICF homes aren't for everyone. Sometimes the upfront cost (about 10% more than their stick-built counterparts) is a significant enough deterrent to stop the conversation. We think that's short-sighted. The benefits of building an ICF home are huge, and you'll reap them in your daily experience and long-term costs.
Keep Your Energy Costs Low in Perpetuity
Energy costs don't go down. Avoid the threat of increasing energy costs eating into your paycheck. Investing in an energy-efficient home is an inflation hedge. As energy costs go up, owners of ICF or other energy-efficient homes see much smaller increases in their heating and cooling bills year over year.
Comfortable
You moved to the lakeshore for the lifestyle, right? Why compromise one luxury for another? You might as well have a comfortable home all year long--with zero drafts & cold spots. Building an ICF home means there is no need to close shades to block the sun on the lakeside (didn't you build for the view?). Thick concrete walls create a quiet environment, blocking out the sounds of beach party stereos pumping, loud exhaust, and even high winds.
Durable
Winter storms are extra-scary on the lakeshore. Build a home that stands up to high winds, hard rains, and heavy snow effortlessly. Since ICF homes are concrete homes; they last as last, are extra pest-resistant, and a key part of achieving resilient home goals.
Health
Because ICF homes are air-tight, we must create them with deliberate air exchange. This means we control the amount and source of fresh air that enters your home rather than relying on the cracks and crevices that typically provide a home's fresh air. When you strategically introduce clean, healthy air rather than dusty attic air, it's not difficult to understand why an air-tight ICF home improves air quality. Family members with allergies and asthma will certainly notice the improved air quality in an ICF home.
Low-maintenance
Our homes are built with long-lasting and durable materials, like concrete, which means you'll invest less in repairs over your home's lifetime. Insurance companies know this too. Concrete homes have fewer and less costly insurance claims; thus, homeowner's insurance is cheaper.
Invest in Your Family for the Long-term
When you build a home, you can reasonably expect it to last for more than just decades. You can pass it down to your children and grandchildren. Your ICF home will last for generations, and you'll have peace of mind knowing you aren't saddling them with a maintenance nightmare or an energy hog.
Can You Use an ICF Lake House All Year?
Vacation home all year? Yes, please! Building an ICF home on West Michigan's Lakeshore will give you a comfortable retreat during every season. ICF homes do well in cold climates and warm climates, making them an excellent option for Michigan's kaleidoscope of seasons. You wouldn't want to miss strange and interesting ice formations that adorn the lakeshore in the winter or the flaming fall foliage, and you won't have to.
Does ICF Increase Home Value?
It's harder to say if an ICF home sells for more than its stick-built counterparts. We don't make claims where we have no supporting data, and people rarely sell ICF homes. Clients who invest in ICF are confident it is more than worth it before they ever consider the resale potential. Don't build ICF if you're just going to sell it. Build it for yourself, your daily experience, your comfort, your health, and build it for the future.
Your West Michigan ICF Custom Dream Home Starts When We Connect
Have you hear of passive solar construction or other energy-efficient features? ICF homes are excellent candidates for passive solar if you've got the right lot. Learn more about passive solar construction here.
Interested in the durability, comfort, and peace of mind an energy-efficient ICF custom home can offer your lakeshore dream home? We'd love to talk more about your vision and our expertise! Head here to connect with us today.