You're planning on triple pane windows; you're deciding on solar panels; you're scanning the market for eco-friendly appliances! Choosing to build an Insulated Concrete Form (ICF) home often begins with a maze of decisions about details to include and the budget required. Building an energy-efficient dream home is a once-in-a-lifetime experience for many clients. When well executed, ICF structures are healthy, durable, quiet, energy-efficient homes built to last for generations.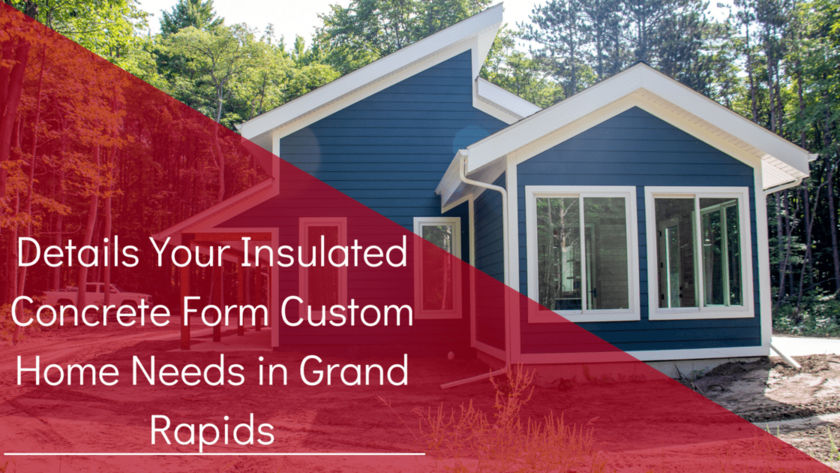 R Value Homes builds gorgeous ICF custom homes in the greater Grand Rapids area, and we'd love to partner with you to build your dream home.
What is ICF?
ICF Stands for Insulated Concrete Forms. Homes are constructed from polystyrene foam panels with a reinforced concrete wall in-between. ICF homes are not new, they have been around since the '80s. However, they are becoming increasingly popular in Michigan due to their energy efficiency and suitability for our climate.
Insulated Concrete Forms Pros and Cons
We're biased. We build ICF homes for a living, so we believe they're worth it. Most of the so-called cons of building ICF homes are mitigated by our expertise. They are not an issue if you hire the right team.
ICF Construction Disadvantages
Costs- A well done ICF home costs more than most stick built custom homes in the same area
Design Limitations- There are far fewer things you can't do in an ICF build than many expect. ICF walls can be finished with just about any material and built to just about any height or shape. However, ICF construction works best in homes where the walls "stack" from one floor level to the next.
Remodeling Constraints- It's easy to cut new doors or windows into concrete forms; however, this does require special equipment. ICF home remodeling needs ICF expertise. As such ICF home renovations are not well suited for DIY (no matter how easy the internet makes it look!)
Requires Expertise- Don't hire an inexperienced ICF contractor. With any skilled trade, experience matters. Since ICF custom home experts don't operate in every market, ICF is not available everywhere. We have seen horrible incidences of trapped moisture and resulting mold because a homeowner/contractor did not address the airflow, humidity, and drying properly. Or walls that are about as level and plumb as the Great Wall of China. Did I mention not to hire an inexperienced ICF contractor?
Deep window sills- Can you believe a lady actually didn't like this? Nearly everyone has really loved the robust feeling and luxurious look the deep sills convey; even using them to easily create window seats, grow plants, etc. But there was the one person that saw this as a bad thing....
Benefits of ICF
Energy Savings- Some of our clients, particularly those who have invested in solar panels, see energy credits instead of energy bills. Air-tight homes save you money on your energy bill every month by making great use of the energy you spend, so you don't need more.
Healthy Air- Homes that pull their fresh air from the leaks in the basement, garage, and attic nooks and crannies offer your guests and family the worst air quality possible. Experience the difference of deliberate, intentional fresh air, when and where you need it.
Strong- ICF homes withstand extreme weather conditions far better than their stick-built counterparts. In Michigan, ICF homes offer resiliency against extreme temperature, fire, severe wind, tornados, and power outage events. ICF homes last hundreds of years or more and are easily upgraded as new technology develops in the industry.
Pest Protection- Bugs that eat wood don't much care for concrete, especially if your neighbor is offering plenty of wood.
Sound Proof- Silence is golden, especially at 4 am. Thick ICF walls don't transmit sounds like homes with traditional insulation and lumber. ICF homes are exceptionally quiet.
How Much Does it Cost to Build a House with ICF Forms?
The average cost to build a custom ICF home in Michigan starts at approximately $240 per square foot but frequently costs more. Factoring in site costs like earthwork and clearing the site, a mid-grade 1,500-square-foot home starts near $400,000. A 3,000-square-foot custom ICF home could easily exceed $700,000 in building costs with custom details like heated floors, lighting control, etc..
Features to Include in Your ICF Home
Balanced Ventilation- Use energy modeling to fit your new home with an HVAC system to keep it comfortable. And don't forget the V in HVAC (Ventilation). The right choices for your home will factor in the amount of moisture your family naturally generates each day. (More people = more moisture.)
Solar Panels- Add solar panels to offset your electric use. Most of R Value Homes' custom builds are net-zero with the addition of some solar panels.
Triple Pane Windows- Who wants to feel a chill by the window? Don't leak heat out your windows. Enjoy the extreme seal and insulation of triple pane windows.
Energy-Efficient Appliances-Address every opportunity to conserve energy by selecting energy-efficient appliances such as a Heat Pump Water Heater.
Design Details for Custom Homes
You can include just about any feature you desire in your ICF home, as you would any other custom residential build. The design details of your ICF home are up to you! Popular features for custom homes in Grand Rapids, Michigan, in 2022 include:
Double kitchen islands
Two-toned cabinets
Pot filler above the stove
Bathroom as a wet room
Smart bathroom technology
Vintage materials and decor
Eco-conscious materials
Browns and earth tones
Bold patterns, particularly in wallpaper
West Michigan's ICF Home Construction Experts
R Value Homes in Grand Rapids, Michigan is ready to use our expertise and industry-leading craftsmanship to build your IFC Home. We are confident we can faithfully execute your vision, and we're looking forward to hearing more about it. Give us a call today to schedule your initial consultation - 616-299-3654!