Energy efficiency has become a major focus within the custom home-building industry in West Michigan. While some prospective homeowners may think of that concept simply in terms of potential savings on future utility bills, the benefits of energy-efficient and sustainable home construction are far more widespread.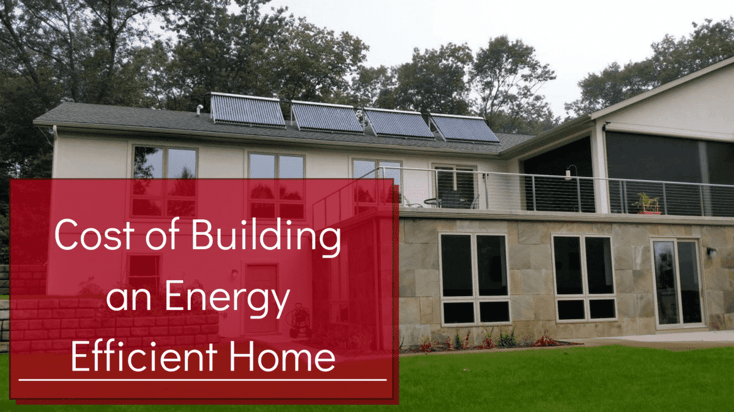 Green home plans also address performance, comfort, and sustainability. They are designed to promote your family's long-term health and well-being through proper ventilation, interior temperature regulation, and airtight construction that prevents pollutants from getting inside.
While these characteristics of your home aren't necessarily as flashy and fun to think about as picking out the perfect lighting for your kitchen or the right tile for your bathroom, they will impact your quality of life for years to come.
What is a Green Home in Grand Rapids, MI?
Although the term "green home" or "energy-efficient home" may be interpreted differently by different Michigan home builders or homeowners, there are a few attributes commonly used to define this approach to custom home building.
Typically, a green home is both designed and built to be ecologically friendly and sustainable. That often involves properly insulating the structure so that you do not have to invest as much into filtering air or regulating temperature; using environmentally friendly building materials and cutting down on waste, and installing appliances and fixtures that consume less power and less water.
There are a few recognized organizations that provide helpful guidelines for building green homes and give certifications if you meet certain standards. For example, the Environmental Protection Agency has Indoor airPLUS and WaterSense ratings; there are also Energy Star ratings, Model Green Home Building Guidelines from the National Association of Home Builders, and Leadership in Energy and Environmental Design (LEED) certification from the U.S. Green Building Council.
If you are interested in creating an enviro-friendly home during your upcoming construction project, the best place to start is selecting a home builder in Michigan who will prioritize energy efficiency and sustainable practices.
At R-Value Homes, we create Insulated Concrete Form (ICF) homes that balance high-performance and durability with conservation and sustainability. Our net-zero homes embody a holistic approach to comfort and consistency by taking into consideration less visible factors, such as heat transfer, temperature regulation, and air movement.
ICF homes are also built to be airtight, which is the foundation of energy efficiency. That involves sealing up the structure to prevent outdoor pollutants—such as dust and pollen—from entering and then having a system to bring in the correct amount of fresh, clean air. Airtight homes are also better at regulating interior humidity, which deters the growth of mold and mildew.
What Does an Energy-Efficient Home in West Michigan Cost?
As you prepare for your custom home building project in West Michigan, one of the first steps is developing a preliminary budget. This will help guide the process as you collaborate with your contractor on the design.
There are numerous factors that influence the cost of a custom home, including the size, complexity, location, and type of materials you include. Most major components, appliances, and materials are available at different price points, depending on their quality and grade. As you are designing your new custom home, you have the latitude to choose which level of fixtures and finishes you desire in order to keep your project on budget.
In general, you should budget about $700,000 or so for your project, as the average cost per square foot to build a custom home is approximately $225. However, making energy efficiency a priority for your new house often leads to a higher overall project price. For example, building an Energy Star home or achieving LEED certification can increase the total cost of building a new house by about 2% to 3%. Part of the reason for the increased cost is that energy-efficient appliances and products—including ovens, windows, refrigerators, and toilets—are generally more expensive. Additionally, you are investing in air sealing, a high-efficiency heat-recovery ventilation (HRV) or enthalpy recovery ventilation (ERV) system, and other design features to make your home energy efficient.
While the upfront investment is larger, building a sustainable home pays off in the long run. Some of the most obvious benefits are lower operating costs and potential fuel savings. Equally valuable is the improved quality of life. Airtight, well-constructed homes that are energy-efficient can reduce your family's exposure to pollutants, mold, and other things that undermine your health and well-being. ICF homes are also sturdy and ultra-quiet. Plus, there is the peace of mind that comes from knowing you are positively contributing to environmental conservation and sustainability.
Building an Energy-Efficient Home in Michigan
Energy efficiency and quality of life go hand in hand. When you properly seal your home and use the best construction practices, you can experience better indoor air quality and a more comfortable environment. At R-Value Homes, we start by using insulating concrete forms for the walls, but also take other measures to support the durability and efficiency of our new home builds in West Michigan. Our team will work closely with you to design and construct a custom house that maximizes your investment and provides the ideal environment for your family to enjoy now and long into the future.