If you're getting ready to apply for that construction loan and you're unsure about a realistic budget for your custom home in West Michigan. If you are looking for savvy ways to address cost and preserve quality with your custom home build, R-Value Homes is pleased to use our years of expertise building custom homes in West Michigan to help you make great choices for your future home.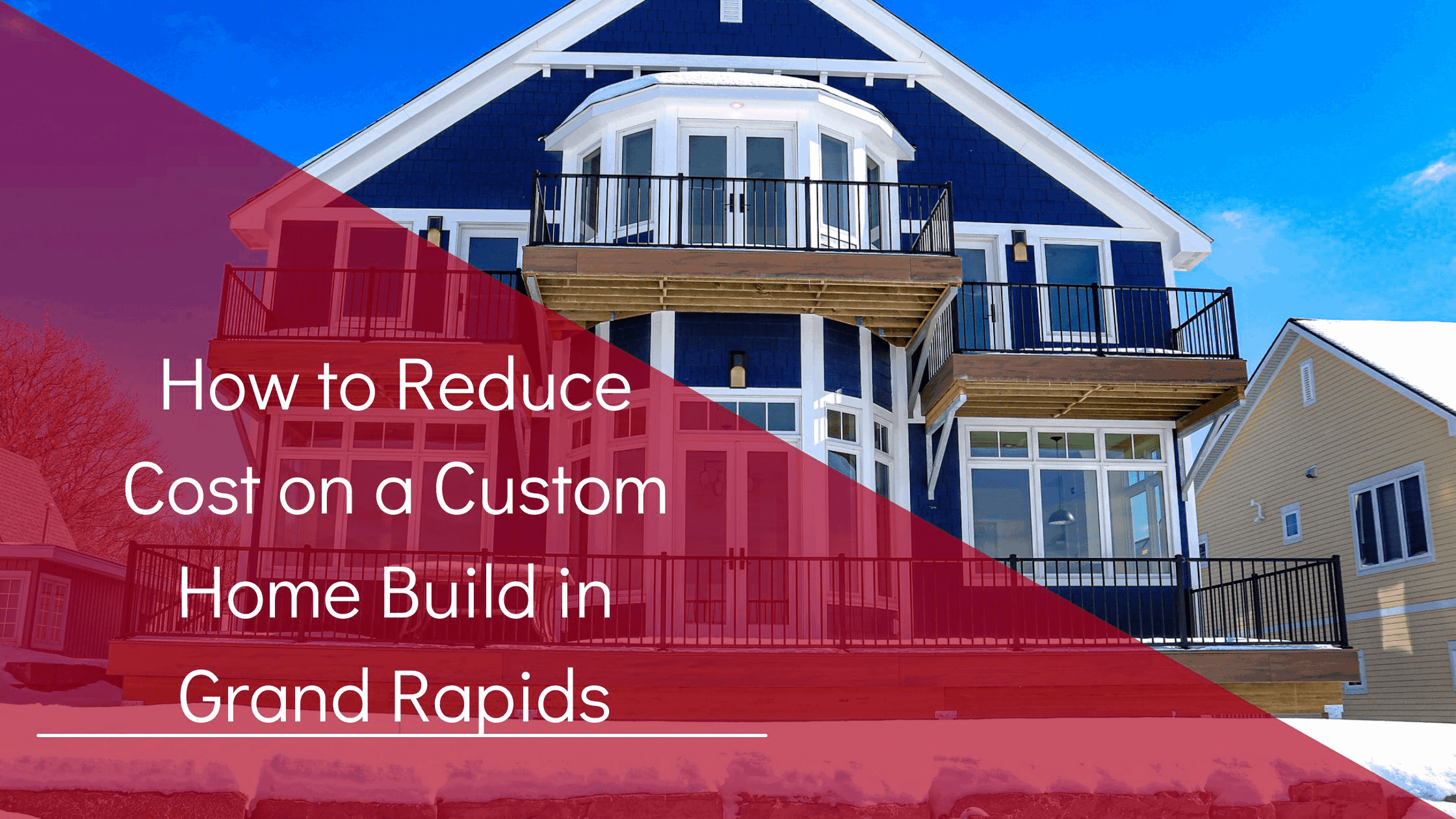 If you are serious about cost-reduction for your custom home project, it should not surprise you that there is a diminishing opportunity to save money as your project progresses—the earlier in the process, the greater the savings possible. Most contractors will stop their explanation here, but we want you to understand what we mean when making this statement.
When Should I Prioritize Cost During My Build?
Let's work backward to fully illustrate the point.
Saving Money During Building
Don't focus your cost-saving efforts on when and where you purchase building materials. Saving money during construction usually involves tripping over a dollar to pick up a dime. Perhaps you could save money during construction by waiting for an item to go on sale. You could hold out for a President's Day sale to save $5/square foot on your beautiful quartz bath vanity countertops. Congratulations, you saved $280! (But you had to delay construction by a month while waiting for the sale.)
Saving Money when Selecting Materials
You could save even more money if you were budget-focused during the selections stage. Your materials choices also have a significant impact on cost. At this point, the size and shape of the countertops are fixed, but the material is not. Switching from custom quartz vanity tops with under-mount sinks to the pre-molded one-piece solid surface could save you $800 per vanity. Multiply that out by four vanities, one of them a double vanity, and the savings are much more considerable, near $4,000.00. The variability in cost for faucets and fixtures alone could impact your budget by thousands. It is extremely easy to lose sight of how quickly seemingly small upgrades add up to serious money!
Saving Money During Design
The opportunity for savings is even greater during the design stage. Here you have the chance to make that spacious bathroom a foot narrower and two feet shorter; go from an 8-foot long double vanity to a 6-foot long double vanity, install a tub/shower combo rather than a 24 square foot tiled shower with a freestanding soaking tub, and on and on we could go. At this point, we save at least $150 per square foot. That adds up pretty fast, particularly when doubled in a two-story home!
Saving Money with your Specs
However, the BEST way to reduce the cost of your home comes even earlier—before design, when you are planning your family's needs. The BEST way to save costs is simple: don't build space you don't use. The size and shape of your home have the greatest impact on cost—concentrate your energy here. Build smaller, but build smart! Homes don't need to be large to work well; they just need to be thoughtfully designed for your particular needs. Eliminating an entire bathroom can save tens of thousands of dollars. Eliminating a mostly unfinished basement will save even more!
Bigger is not always better. We understand the urge to include every bell and whistle when designing your dream home. However, overbuilt homes are expensive, and this blog is about cost reduction. By overbuilt, I mean built larger than homes need to be. Take some time and ask yourself some critical questions. Think about your needs five years, then 20 years into the future. Will your kids need more space or less? Will you have grown children visiting with their own families or be empty nesters who prefer your privacy?
In my own home, we shrank our home design three times before we finally built it. We initially moved into the lower level only while the main story was being trimmed. After the second full week of this living arrangement, Missy (my longsuffering wife) exclaimed: "I think we built this home twice as large as needed!" We were living quite comfortably in half of the home. These days the kids are a wee bit larger and take a lot more showers, so our home is appropriately sized. But it would have been far too large had we built the first version!
What Kind of Home is Cheaper to Build?
Some design choices and floor plans are more cost-efficient to build. You have probably heard the concept of eliminating corners to control cost, but corners add so much interest! Consider using extra corners only on the front of the home, and keep the other three sides straight and square.
Furthermore, open floor plans are often more costly because of the engineering and material requirements to bear weight without intersecting walls. Ranch homes can be very economical until they exceed a certain size threshold, in which case a second story is cheaper because it adds square footage without foundation.
Lower levels are somewhat inexpensive space, but they are costly storage! Eliminate basements that won't be lived in.
Another general principle involves keeping a home closer to square. A long narrow home uses a lot of exterior walls for a small amount of interior space, and the mechanicals needed to run larger distances. Such homes cost surprisingly more than more compact designs.
What Does A Custom Home Cost in Grand Rapids, MI?
Location is everything. Homes in the Midwest are often less expensive than in other markets. However, some costs, such as materials, are fixed. We hope you now understand a little better why the cost of a new custom home in Grand Rapids, MI varies greatly depending on the size of your build and the materials you select. Learn more about pricing in our pricing guide here.
Insulated Concrete Form Custom Home Experts in Grand Rapids, MI
R-Value Homes builds energy-efficient and customized ICF homes for our West Michigan neighbors. We would love to talk to you about your custom home vision. Reach out today.