A lot of questions about building an insulated concrete form (ICF) home center around the design. Some of our most frequently asked about designing a high-performance home include the following:
Do I need to work with a certain designer?
Can I use an online blueprint?
What does my designer need to know?
What do I need to know?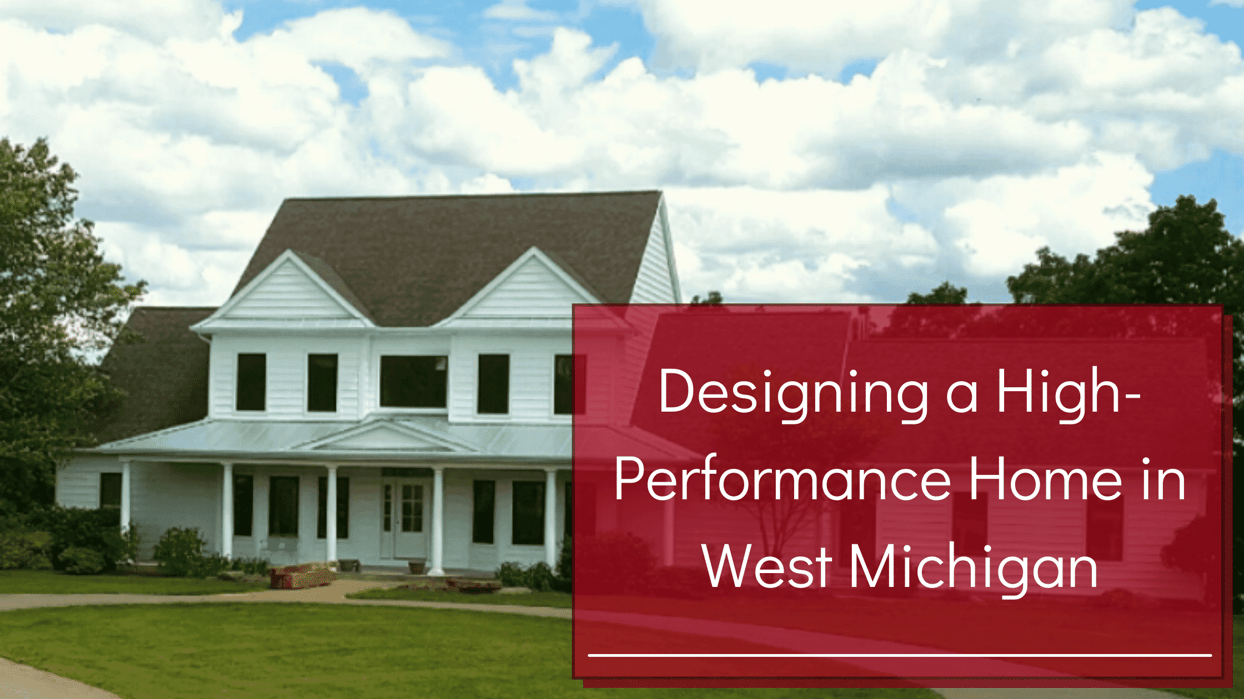 We've worked with countless designers, architects, and other design team members in West Michigan to create premium custom concrete homes. We're pleased to offer our expertise to help you begin your ICF home design process. If you're in the Greater Grand Rapids area, we would love to build your custom high-performance home. Reach out today and schedule a consultation!
Concrete Home Basics
It's often best to start with a small primer. There's a lot of vocabulary involved with a concrete home. Here's a cheat sheet so that you can get started with confidence.
High-Performance Home: In this case, a high-performance home is an extremely energy-efficient home. We delve into the ways in which concrete homes are energy efficient in our blog here.
Insulated Concrete Form (ICF): This is the way that concrete homes are constructed. Hollow foam blocks are stacked and filled with concrete. If you're curious about ICF, find out more about it here.
Balanced Ventilation: High-performance homes are airtight, don't exchange air with the surrounding environment through cracks and holes, and require thoughtful removal of stale air and introduction of fresh air. Find out more about ventilation options with the video below:
Team Approach to Concrete Form Home Design
It's no secret that custom home builders and designers alike prefer the team approach—when a builder and designer are both chosen by the client and working together right from the beginning. Details matter and thoughtful design and collaborations between disciplines are even MORE important when looking for a performance that far exceeds a code-built home. Assembling a team for the design, rather than just the construction ensures that everyone's expertise is efficiently incorporated.
Do I Need A Concrete Form Veteran for my Design?
While it is great to work with designers experienced in concrete walls and current building science, there have been many occasions where we worked with designers new to these concepts. It may take an architect a little more time to build up a library of details, but anyone willing to learn can learn. Sometimes, enthusiasm and fresh perspective can be a great thing! If you are interested in insulated concrete forms for your new build, you may not be limited to designers or architects specializing in high-performance homes.
Can I Use an Online Blueprint for my Concrete Home?
We strongly recommend that you purchase online blueprints with caution. In our limited experience, online blueprints are drawn to sell. This is an oversimplification. An online company makes money when they sell a blueprint. Prints are sold by catching your eye. Your eye is caught by features—tray ceilings, 8 bathrooms, a butler's pantry, copious windows, angled corners, French doors, fun rooflines, screen rooms, outdoor kitchens, etc. These items are great fun but costly to build. In many cases, people prefer to focus their resources on different and more personal priorities when they actually build. Online blueprints are designed to appeal to the masses, not to meet your family's unique needs.
Most online blueprints are generic and need modification to work in your local terrain or climate. West Michigan designers tend to incorporate West Michigan ways of doing things; whereas online prints often need modification, such as adding a basement.
With that caveat, yes, we have begun with online blueprints, converted them to ICF, and built stunning homes.
General ICF Guidelines for Designers
If your designer is new to high-performance homes, there will be some critical differences in ICF homes compared to a traditional structure. Here are some concrete home features for your designer to keep in mind:
Wall thickness will be at least 11.25". It could be thicker if you require higher strength or greater insulation value.
Leave windows and doors 24" from corners and each other. We can shrink that if necessary, but we may need an engineer involved.
Don't sweat trying to match ceiling heights to an even ICF block height. It is easy to rip a block to height, and with precut studs and standard drywall heights, there are more cost savings in sticking with standard ceiling heights.
Because we can easily rip a block to length, there is also no need to match wall lengths to blocks.
Stack exterior walls on top of each other. We can build deviations from the main exterior walls with ICF, but it generally introduces complexity, cost, and compromise.
Short jogs are taboo because of the concrete block structure. Thick walls work best at no less than 24" jogs.
There is no need to furr out these walls unless the washer/dryer is against an exterior wall.
The common wall between the garage and house must be ICF.
There is so much more! We would love to walk your designer around the ICF block and ensure that your home is designed to high-performance perfection.
What You Need to Know About ICF During Design
If you have a 2x plan you love, it will need to be converted to ICF. The cost of changing the print is less than the cost of one mistake from an incorrect print.
Converting a stick plan to ICF shrinks rooms and sometimes windows because the walls are thicker and made of blocks. Occasionally these updates take more space than is tolerable. Keep this in mind if you are evaluating possible blueprints.
Start by being transparent with your budget. A good builder will guide the design and specifications not to exceed your budget.
Designing Your Concrete Home
The best way to begin is by establishing your final goal, then assembling a design/build team that understands or specializes in that goal. Yes, builders can recommend architects and designers, and architects can recommend builders. Use the team you have to help you build the best team for your needs in your area!
Begin With West Michigan's High-Performance Home Expert
We love building dream ICF homes in the Grand Rapids area, and we're looking forward to discussing your needs and vision. Reach out today to get started!