It can be easy to get lost in the noise of products and possibilities on the way to building your dream home. One common mistake in the planning stage of a custom home is missing great options that you might not know about. Interest in energy-efficient homes continues to increase, and Insulated Concrete Forms (ICF) provide outstanding energy efficiency and add surplus benefits in a variety of other ways. As such, they should be a serious contender in any new home construction project. At R-Value Homes, Insulated Concrete Forms are our specialty and we love to help people learn more about them and understand their incredible value.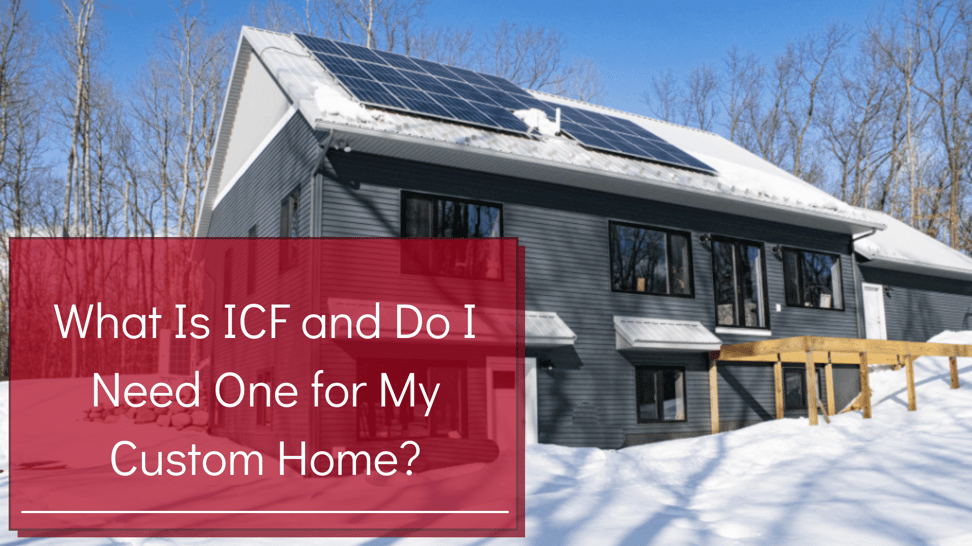 ICF Basics
ICF stands for Insulated Concrete Forms. Here's a quick crash-course about ICF homes:
To build an ICF structure, foam forms are stacked and filled with reinforced concrete leaving you a solid concrete wall wrapped with continuous, thick insulation. There are absolutely no gaps.
Though many benefits of ICF are observed in their superior basements, ICFs are more than just a basement strategy. ICFs really shine when used for all exterior walls, from footing to truss. This means that the same material is used from the floor all the way to the roof.
ICFs are airtight. This benefits indoor air quality through the reduction of outdoor allergens and creates unparalleled energy efficiency and comfort when heating and cooling.
ICFs do not rot or decay. The overall structure, therefore, needs less maintenance and stands the test of time far better than other homes.
ICFs offer

superior air quality

. Traditionally built homes have a variety of places mold can grow undetected, which is not the case for homes built with ICFs. If your walls are solid concrete and foam, there is nowhere for the mold to grow within the walls.
We truly believe in the comfort, durability, and energy efficiency that Insulated Concrete Forms offer. But we're not the only ones who think so! Check out the U.S. Department of Housing and Urban Development's Cost and Benefits of Insulated Concrete Forms for Residential Construction to dig deeper into the data that sets ICFs above traditional construction.
What Makes ICF Different From Other Eco Home Options?
Many eco strategies boast benefits from one angle only. For example, the material was sustainably sourced, or the energy use is efficient. Few of these strategies offer additional benefits outside their primary offering and even fewer package multiple extras the way ICFs do. Therefore, the benefits of ICFs should be viewed holistically as you consider overall comfort, building costs, energy usage, and long-term maintenance. Here are some ways in which Insulated Concrete Forms stand out from other Eco building materials:
ICFs are efficient to build and maintain. They accomplish insulation, air-sealing, and framing all at once for maximum efficiency during the building process. Even better, the ICF walls require zero ongoing maintenance; choose an exterior cladding of stone, brick, or stucco and be prepared to enjoy a lifetime of zero maintenance! As an aside, what is greener than a home that doesn't need to be replaced?
Follow the energy. Building green is not only about sourcing materials sustainably, it is also about reducing consumption!

Consumption of energy

and the

resultant pollution

. But don't take our word for it,

others

have highlighted the same point. Our ICF homes set the standard for energy efficiency in Grand Rapids and throughout West Michigan.
Materials do not decay or rot like homes built with wood, no matter how sustainably sourced the materials are.
Thick walls. It's a whole sentence by itself. Almost every other benefit we discuss derives some of its value from the thick walls of ICF. This thickness is more than a beautiful design feature; it is a result of combining the strength of reinforced concrete with high levels of insulation.
Reduced transference of sound through the walls creates a much quieter living experience.
Disaster Resistance in extreme weather conditions. Here in West Michigan, our primary concerns are strong winds and tornadoes, but ICFs certainly stand up against other disasters, such as fires, hurricanes, and earthquakes, better than their traditional counterparts.
Thermal mass makes for a comfortable living space. The concrete core acts like a battery that absorbs, stores, and releases heat to create even temperatures across time and throughout your living space. It is therefore naturally cooler on hot days and warmer on cold days.
Net Zero and ICF
Net Zero is a blanket term used for homes that, on the whole, generate as much energy as they use. Note that this refers to annual use, not a daily balanced input and output. Therefore, the strategy to achieve net zero in a single structure needs to focus on both the way it uses and sources energy in equal measure.
When addressing energy consumption, the goal is to build the most energy-efficient home possible in order to reduce the need for daily energy input and to make the most of the input that has already been used. And the airtight, supremely insulated ICF structures fit the bill for energy-efficient structures. Though ICF homes are not in and of themselves net-zero structures, their energy efficiency contributes significantly to the larger goal.
Energy sources and preferences vary by geographical location. When our team at R Value Homes constructs homes with a net-zero goal, energy needs are carefully considered and obtained via solar panels on the home or property.
Let Us Help You Build it Better
At R Value Homes, we make your comfort and home efficiency a priority. We know that planning for an energy-efficient new home can be overwhelming and technical, but we're here to help. We love to convert our clients into Insulated Concrete Form believers (which isn't hard). Our results are our best advertisement! Contact us to learn more about our services.