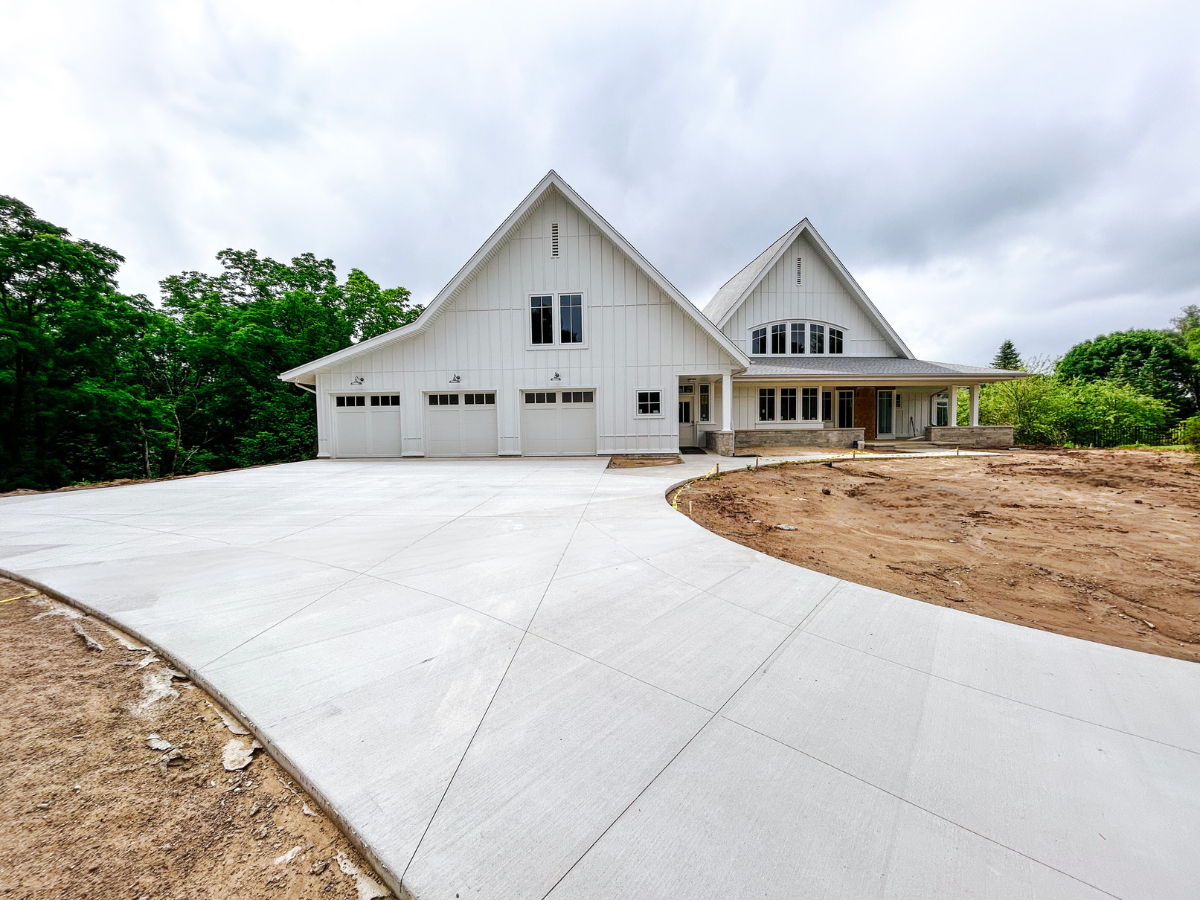 Get Excited!
The Burken Punt Open House/Reveal is Here
Check out the incredible experience of our latest home: "Burken Punt" in Forest Hills. We invite you to come see this custom built high-performance home with 2x8 T-Stud walls above grade and 8" Nudura ICF walls below grade.
Details:
July 13th-15th (Thurs, Fri, Sat)
3:00pm-7:30pm
4500 Birch Point, NE Grand Rapids, MI 49525

Please respect our client's privacy -- no early birds or sneak peeks!
Schedule
We have some exciting opportunities for you each day
Thursday:
Community Real Estate Agent Kristi Nora will be onsite to help you understand the process of finding and purchasing property
Enthusiastic construction loan guru Mike Bartels will be present educating you on the various options for funding a new build
From 3:30 to 6:00, Helios Solar expert Brandon Flood will share his knowledge of solar power and storage options to help you understand if solar is right for your home
Friday:
Local Real Estate Agent Karen Benjamin will be onsite to help you understand the process of finding and purchasing property
Sustainable ambassador Dan Terpstra of The Green Panel joins us to share his passion
Saturday:
Sustainable Real Estate Agent Brett Vredevoogd will be present to help you understand the process of finding and purchasing property
Amazing coffee and donut trailer Cup of Grace will be onsite with some of the best iced coffee, fresh donuts, & lattes anywhere!
Zeigler Ford of Lowell will have a brand new 2023 Ford F-150 Lightning EV onsite. Yes, it is available for purchase, "frunk" and all!

Parking
Please park along the street.
For overflow parking, please use Crahen Valley Park which is a .2 mile (4 minute) walk. We will have signs directing you.
What to expect:
You will be able to see much of the exterior while remaining on concrete, but if you wish to see more, bring a change of boots in order to keep the concrete (and house) clean.
We ask that you either remove shoes or wear the booties provided while touring the interior of the home. Children are more than welcome to attend when accompanied by parents.
The home is not to the completion level of a Parade home. While 98% complete and ready for move-in, this project is a custom collaboration between R-Value Homes and the homeowner. As such, there remain a number of items the homeowners are creating themselves; including floating shelves, a custom wood front door, and the landscaping. These items will not be complete by the time you arrive.
R-Value Homes specializes in Healthy, Comfortable, and Efficient homes, and this is no exception. Ask us what makes this a healthy home, why it matters, and how you could build a healthy home just right for you.

For the first time since 2014 we did NOT use Insulated Concrete Form (ICF) walls above grade on this home. But don't fret! The lower level walls utilize ICF technology.

Above grade, see a fantastic improvement on stick framing known as T-Stud. These revolutionary walls eliminate thermal bridging for enhanced thermal performance and durability, while allowing all the flexibility of stick construction.
Far better than browsing images online, we are super excited to invite you to see, touch, and experience this home for yourself.
Products to Note:
At this open house, you'll see incredible work by local artisans, as well as cutting edge products such as: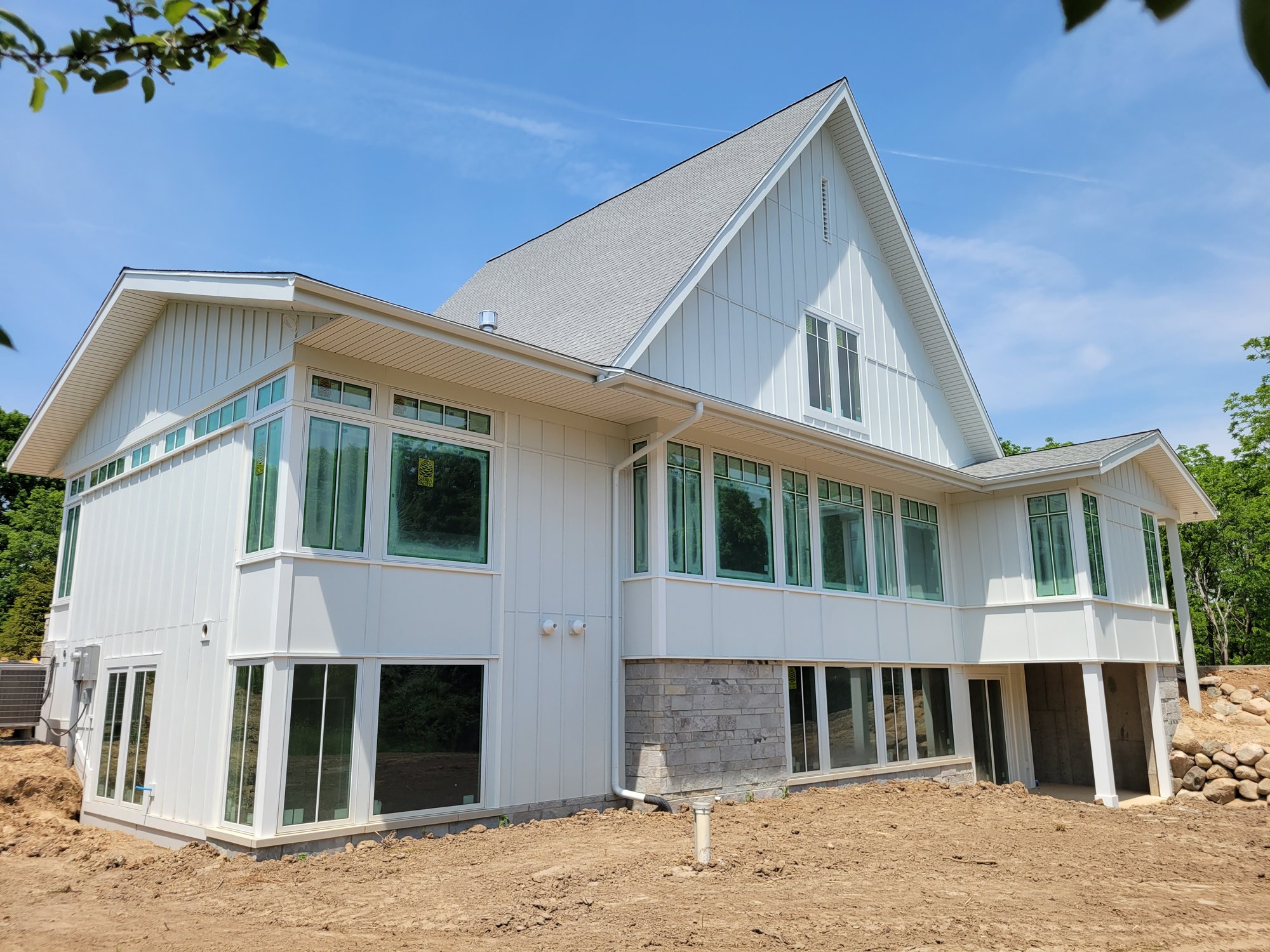 Specs:
4,260 finished sq.ft, (plus 1,000 sq.ft. garage)
1,000 sq.ft. workshop under the garage
4 bath, 4 bedroom
LOTS of future space in the second level
Real stone veneer
Floating stairs
Closets that will become a future elevator
Gorgeous Sierra Pacific windows
11'5" ceiling
LP SmartSide "Smooth" board and batten siding
Two self-balancing Broan AI Series Energy Recovery Ventilators remove stale air and provide healthy, fresh air; without losing heat
2x8 T-Stud walls above grade
8" Nudura ICF walls below grade
Preliminary energy model $620/yr combined heating and cooling