Building a custom home is an unparalleled opportunity to create a space for your family that is tailored to your particular needs and goals and that you can cherish for many years to come. However, it's also an investment—and likely to be one of the largest you will make in your life.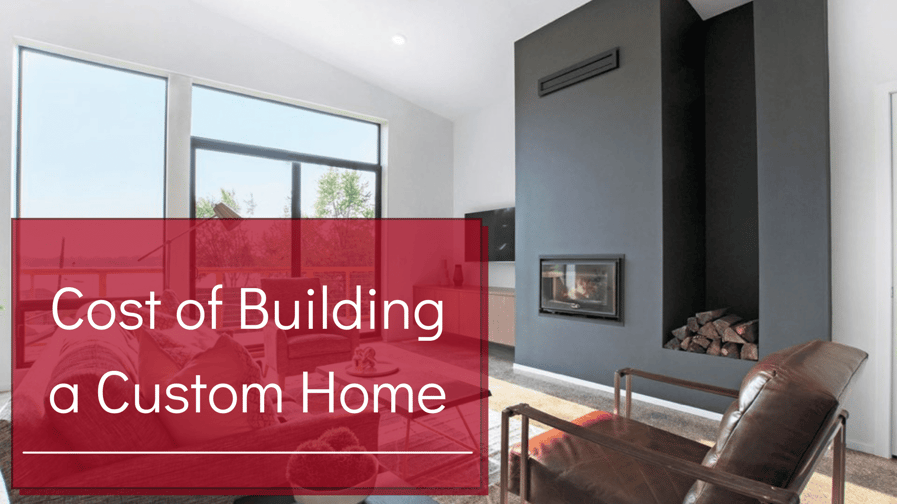 As you begin planning and preparing for your custom home build in Michigan, it's important to establish a preliminary budget. While this number will be a rough estimate until you finish developing your design and selecting features and products for your house, it serves as a guiding point to prevent scope creep and keep your design team on track.
What is a Custom Home?
First, it's helpful to understand the distinction between custom homes and production homes, and how that impacts cost.
Production homes are created by a builder or developer using a set library of floor plans and then sold to a homebuyer after the fact. These homes tend to be standardized, which means you don't have a say in the size, layout, or features of the space. Because production homes are built in a cookie-cutter fashion—using floor plans that have been created over and over again—they are less of an investment than a custom home. However, since you do not personally contribute to the design of the house, what is already built is what you get, unless you want to remodel in the future.
Custom homes, on the other hand, are designed and built to your specifications. You can select the square footage, how many bedrooms and bathrooms you want, the floor plan for each space, and types of materials and products incorporated into the structure. You also get to pick out each finish and fixture, from the type of flooring in your bathroom to the hardware for your kitchen cabinetry. In this way, you are creating a unique space, made just for you.
What is a Custom ICF Home?
Within the custom home-building world, there are a few variations and styles, one of which is insulated concrete forms (ICF). These unique homes are made from insulated concrete or panels of polystyrene foam with a reinforced concrete wall in between.
Residential ICFs, such as those created by our team at R Value Homes, are becoming increasingly popular in Michigan because they are substantially more energy-efficient than standard "stick" construction. They also tend to be quieter, more durable, and environmentally friendly - which are just a few of the reasons to build green. This construction method helps reduce air pollution indoors, along with noise from outside. ICF homes also don't shudder in the wind, and you'll find it easier to maintain a consistent interior temperature.
Related: How Much Does an Energy Efficient Custom Home Cost in Grand Rapids, MI?
At R Value Homes, we carefully select materials that complement each other, implementing the insights from building science to emphasize efficiency along with your family's comfort, health, and wellbeing. However, you maintain the ability to set the specifications and make selections for your new ICF home so that it matches your vision.
What Does a Custom ICF Home Cost in Grand Rapids?
The cost to build a house in Michigan, regardless of style, depends on a range of factors, including square footage, composition, and complexity. Your investment may also be influenced by the topography and condition of your property and the amount of site work required to successfully build your custom home. Additionally, the type of materials and level of finishes you select during the design phase will significantly influence your new home cost. If you include lots of high-end selections—such as handmade or imported tiles, custom cabinetry, designer lighting, and automated home features—your project price will be more than if you stick to basic or midrange selections. In that sense, you have some control over both the quality and cost of the structure.
As a starting point for planning, the average cost to build a custom ICF home in Michigan starts at approximately $225 per square foot and often goes higher. Factoring in site costs, a mid-grade 1,500-square-foot home would start at about $400,000. For a well-appointed 3,000-square-foot custom ICF home, you can expect to invest over $700,000.
The square footage of your project is calculated from the exterior of the walls and encompasses every level of the home under the roof, whether finished or unfinished.
With a custom home build, it's also important to take into consideration additional expenses, including the price of your land, site preparation (any challenges for your specific property/site), and permitting fees. These and other site costs such as landscaping should be included in your budget to give you a realistic expectation of the overall project price.
At R-Value Homes, we will provide ballpark budget pricing during the initial planning and development phase. This budget will encompass the main categories of your home, such as foundation, framing, and windows. As you customize your ICF home with a full set of specifications and selections, we will refine the pricing to give you a more precise cost estimate.
Building a Custom ICF Home in Michigan
Creating a new custom ICF home in West Michigan is a major investment; but one that pays dividends over the years by providing the comfort, stability, and quality of life you desire for your family. Still, you want to be confident you are making the most of your investment. That's where R Value Homes comes in. We prioritize quality over speed and add incredible efficiency to ensure your new custom home in Michigan is built within your budget and according to your vision. Give us a call today to schedule your initial consultation - 616-299-3654!
Related: Questions to Ask Before Building a Custom Home in Grand Rapids, MI